So, I bought paint yesterday. Two gallons (which cost more than $60! Yikes - paint is expensive! Good thing my whole entire "house" is only 27' long :)). And I went home, and stalled.
Because everyone told me not to do it.
My vision started with the first trailer I went to see - it was big, over 30' long, had a big sitting area and a
huge
bedroom, felt spacious, etc, and I fell in love. I'd been considering the idea of converting a trailer for awhile, but this was the first time I'd actually been inside of one, and in my mind I could see it with new carpet, the walls painted a pale shade of gray and the cabinets painted a slightly darker hue. My dad got hung up on the spots in the carpeting and I couldn't have cared less, because I could
see it
.
Although I didn't get that trailer, I carried the vision with me to each subsequent trailer I went to see, and when I found the one that eventually became mine, I had that same moment of
seeing it
.
And then I went home and shared my vision with others.
Mistake!
In a family that loves country, cowboys, westerns, handmade quilts, and wood, I love sleek lines, graphic prints, futuristic/industrial inspired furniture, monochrome, metal, glass, concrete. Most spaces that people label as cold and harsh, I would happily move into.
To
refresh your memory
- my trailer came with blue floral curtains and upholstery. With taupe wallpaper (that reminds me of my doctor's office). And lots of wood cabinetry. Everyone loved it.
Everyone but me.
And it was mine - or rather, it needed to be.
So I brought home a gazillion gray paint chips from Lowes, taped them to the walls and cabinets, and studied them. Every time I had a spare moment, I'd duck out and play with color, moving one closer to the window so I could see how the light played on it, or closer to the shadows, to make sure it wouldn't darken.
I matched up tons of light/dark combinations, looking for that elusive "perfect" combo from my visions, and the whole time,
I doubted myself
. I doubted that this was a good idea, that maybe I should just learn to be happy with the blue and taupe and wood. That everyone else was right.
I finally found the colors I loved, brought them home, and doubtfully plunged a paintbrush in and began painting broad streaks of gray across the wall.
And you know what?
I loved it
.
I got distracted by the way the evening light danced across the lovely hue. I relished every second as the ugly wallpaper disappeared beneath the fresh gray, creating a blank canvas for new memories.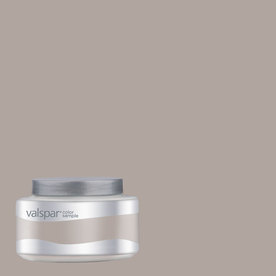 I watched, in rapt wonder, as the space that, up til now, has been mine only legally, began to become mine in spirit.
The truth is, I'm not the same person I was three months, three years, or even ten years ago. God has been working in me, and in some ways, I'm like my trailer - for a long time, I was His in name only. But lately, I've been feeling brushstrokes across my soul, covering the ugly wallpaper, and heard Him whisper, "I'm redecorating. I have a vision." :)
And of course, the fact that I have a place to redecorate and call home, and the fact that my heart is made so happy merely by the perfect shade of gray - these are all testaments to the fact that I am the child of an infinitely loving Father, that I am being taken care of. For the first time in a really long time, I am resting.
And if you don't like my paint choice?
I don't wanna hear about it! :)